Expertise
Je suis un professionnel de la conception de logiciels spécialisé en ergonomie, expérience utilisateur et design d'interaction. Je fais de la recherche sur l'utilisation, pour analyser et concevoir l'interaction, l'expérience, les interfaces et l'architecture d'information de logiciels avec une approche centrée utilisateurs, afin de combler les besoins de ces utilisateurs, autant pour pc, mobile, web ou autres plateformes en IHM. De plus, mon parcours et ma curiosité m'ont amené à devenir compétent dans plusieurs domaines, gagnant en polyvalence et en méthodologie. I am a professional in software design specialized in ergonomics, user experience and interaction design. I do user research, analyze and design interaction, experience, interfaces and software's information architecture with a user-centered approach, to meet the users needs, for pc, mobile, web or other HMI platforms. In addition, my career and my curiosity led me to become proficient in several areas, gaining in versatility and methodology.

Plus de 8 ans d'expériences en graphisme, conception et intégration
Formations académiques en conception logicielle dont une spécialisation en ergonomie au niveau maîtrise obtenue de la Polytechnique de Montréal avec un GPA de 3.67 sur 4
Développement continu avec des projets divers et une mise à jour des connaissances avec des conférences et publications (Jared Spool, Nielsen Norman Group, UXmatters, etc.)

More than 8 years of experience in graphics, design and integration

Academic training in software design including a master's level specialization in ergonomics obtained from Polytechnique de Montréal with a GPA of 3.67 out of 4

Continuous development with various projects and updates of knowledge with conferences and publications (Jared Spool, Nielsen Norman Group, UXmatters, etc.)

Compétences en conception et analyse

Design and analysis skills

Tests d'utilisabilité
Évaluation heuristique
Wireframe
Scénarios d'utilisation
Persona
Capture de signaux physiologiques
Entretients avec clients et utilisateurs

Usability tests
Heuristic evaluation
Wireframe
Usage scenario
Persona
Physiological signals
Clients and users interview

Analyse de tâches et d'activités
Diagrammes de flux
Questionnaires
Accessibilité
Design persuasif
Patrons de conception en design de jeux et d'interfaces utilisateur

Tasks and activities analysis
Flow charts
Surveys
Accessibility
Persuasive design
Game and UI design patterns

Compétences logicielles

Software skills

Axure, Balsamiq, Draw.io, LucidChart, XD, suite Microsoft Office, Visio, Invision, suite créative d'Adobe, Inspectlet, HTML, CSS, Javascript, plusieurs autres...

Axure, Balsamiq, Draw.io, LucidChart, XD, Microsoft Office suite, Visio, Invision, Adobe creative suite, Inspectlet, HTML, CSS, Javascript, and many others...

À propos de moi

About me

Je suis analytique et passionné par la conception d'applications interactives, l'étude du comportement des utilisateurs, la cognition et la technologie. Hors domaine, j'ai également des intérêts envers des sujets divers, les actualités, la santé, l'environnement, les progrès scientifiques, la science-fiction, les jeux, créer et écouter de la musique, et pratiquer des sports, ayant fait mon premier demi-marathon cet été.

I am analytical and passionate about designing interactive applications, studying user behavior, cognition and technology. Outside of the field, I also have interests in various subjects, news, health, environment, scientific progress, science fiction, games, creating and listening to music, and practicing sports, having done my first half marathon this summer.
INFSOCProjet innovateur de conception logicielle avec une approche ergonomique
But
Concevoir une application mobile et web adaptative et collaborative de validation de nouvelles et articles scientifiques pour offrir la possibilité d'avoir des informations vérifiées et complètes avec différents points de vue.
Défis
L'application doit inciter les utilisateurs à contribuer ou contester les articles avec des références qui en affecteront la validité et qui seront aussi évaluées par les utilisateurs, et ce, sans permettre à des "trolls" de favoriser des fausses informations.
INFSOC Innovative software design project with an ergonomic approach
Goal
Design an adaptive and collaborative web-based mobile app of news and science articles validation to offer the ability to have verified and comprehensive information with different points of view.
Challenges
The application must encourage users to contribute to or contest articles with references that will affect their validity and that will also be evaluated by users, without allowing "trolls" to promote false informations.
Recherche utilisateur
User research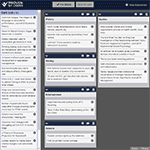 Création de sondage biographique et quiz servant à faire de la recherche sur le comportement de lecteurs d'informations en-ligne
Version française
Version anglaise

Tri de carte pour valider et guider l'architecture d'information exécuté par 9 répondants avec l'outils "Proven by Users"
Tests d'utilisabilité et traçage de déplacement de souris
Biographical survey and quiz creation to conduct research on the behavior of readers of information on-line
French version
English version

Card sorting to validate and guide the information architecture
Usability testing and mouse-tracking

Conception
Conception à l'aide de diagrammes de navigation et de scénario d'utilisation
Conception d'une logique de système pour la validation et la gradation des articles et sources d'informations
Conception d'interfaces et de prototypes dans Adobe XD et Invision
Projet en cours et en amélioration continue, étude de cas complète à venir
Design
Design using navigation diagrams and usage scenario
Design of the system's logic for the validation and gradation of articles and sources of information

Interfaces and prototypes design in Adobe XD and Invision

Ongoing project and in continuous improvement, comprehensive case study to come
Résultats
Le projet est en cours et en constante évolution.
Selon les résultats du sondage, l'incitation aux utilisateurs à entrer des sources de qualités pour leurs références doit être encouragée par des règles dans le système, comme un système de réputation pour les utilisateurs et ses sources, et un plus grand impact accordé sur la gradation aux références qu'aux commentaires. La mise en valeur accordée à certains éléments d'interfaces devrait aussi servir à diriger les actions des utilisateurs.
Le tri de cartes a confirmé que de diviser le contenu en groupes avait peu d'utilité vu la multiple appartenances des articles. Mettre de l'emphase sur une gestion avec des étiquettes seraient plus flexibles. Seuls 2 groupes ont été crées selon le type d'élément recherché, soit des nouvelles ou des études.

Results
The project is underway and constantly evolving.
According to the survey's results, the incentive for users to input sources of quality for their references should be encouraged by rules in the system, such as a reputation system for users and its sources, and a greater impact on gradation for references than comments. Emphasis on certain interface elements should also be used to nudge the users' actions.
The card sorting confirmed that dividing the content into groups wasn't useful because of the multiple categories an article can belong to. Putting emphasis on tags would be more flexible. Only 2 groups were created according to the type of elements of interest, news and studies.
Recherche physiologique sur des utilisateursProjet de maîtrise
But
Étudier les effets de la frustration dans un jeu sur la motivation, l'engagement et l'éveil chez les utilisateurs.
Défis
Utiliser et apprendre une méthodologie complète de capture et d'analyse de signaux provenant d'un casque EEG (Epoc de Emotiv) et, dans un court lapse de temps avec un nombre limité de sujets, obtenir des résultats indicatifs de l'état des utilisateurs dans différentes séquences de jeu.
Physiological user researchMaster's project
Goal
Study the effects of frustration in a game on motivation, engagement and arousal on users.
Challenges
Use and learn a complete methodology for capturing and analyzing signals from an EEG headset (Emotiv Epoc) and, in a short time with a limited number of subjects, obtain results indicative of the users' state in different game sequences.
Conception et préparation
Revue de littérature sur les émotions et la cognition entourant les jeux et la frustration, les types de joueurs, sur la capture, le traitement et l'analyse de signaux physiologiques et la détection de la motivation, l'engagement et l'éveil
Préparation du plan d'expérimentation basé sur des pratiques communes dans des projets de recherches similaires
Conception et programmation de deux expérimentations en AS3
Recueil de données auprès des utilisateurs
Préparations de 12 sujets pour l'exécution des tâches et la capture de signaux physiologiques
Exécution d'un prétest comprenant un test SAM accompagné d'images de la librairie GAPED pour provoqué des états cognitifs et émotionnels pour une durée de 5 minutes
Exécution d'une expérimentation de type jeu à haute intensité avec des niveaux de difficultés variables ainsi que 4 conditions pour une durée de 20 minutes
Capture de données de performances avec des métriques de jeu et des signaux physiologiques avec un casque EEG
Présentation de questionnaires avant et après les tests
Analyse des résultats
Traitement des signaux avec EEGlab
Analyse des résultats en bandes fréquences avec support statistique, des ANOVA à mesures répétées
Synthèse des résultats et écriture d'un rapport de projet de 70+ pages
Planning and design
Literature review on emotions and cognition involving games and frustration, player types, on capture, processing and analysis of physiological signals and the detection of motivation, engagement and arousal
Plannification of the experiments based on known practices in the field in similar projects
Design and programming of two experiments in AS3
Users data collection
Preparations of 12 subjects for the execution of tasks and the capture of physiological signals
Execution of a pretest including a SAM test accompanied by images from the GAPED library to provoke cognitive and emotional states for a duration of 5 minutes
Execution of a high intensity game type experiment with variable difficulty levels and 4 conditions for a duration of 20 minutes
Collection of performance data through game metrics and physiological signals with an EEG headset
Survey presentations before and after the tests
Results analysis
Signal processing in EEGlab
Results' analysis in frequency bands with statistical support using repeated measures ANOVAs
Summary of the results and writing of a 70+ pages project report
Résultats
Un apprentissage de l'aspect méthodologique de l'utilisation d'un casque EEG en recherche utilisateur a été fait. Des tendances en partie reliées aux hypothèses ont été décelées, soit une augmentation de l'engagement et de l'éveil lors d'événements frustrants dans le jeu, mais avec une réduction de la motivation, donc une motivation de retrait. Le nombre de sujets, la qualité du casque et la rapidité des séquences se sont révélés être des facteurs contribuants au manque de signifiance statistique des résultats.
Results
Learning of the methodological aspects using an EEG headset in user research. Trends partly related to the hypotheses were detected, an increase of the engagement and the arousal during frustrating events in the game, but with a reduction in motivation, thus a withdrawal motivation. The number of subjects, the quality of the headset and the speed of the gameplay sequences proved to be contributing factors to the lack of statistical significance of the results.
Lyrical Composer DictionnaryProjet de conception graphique
But
Concevoir des concepts d'interfaces pour un dictionnaire de rimes, synonymes et antonymes sur mobile pour offrir un outils d'aide à la composition simple et versatile.
Lyrical Composer DictionnaryGraphic design project
Goal
Design interface concepts for a rhymes, synonyms and antonyms dictionnary on mobile to offer a simple and versatile composition support tool.
Analyse ergonomique du site internet SteamÉvaluation avec plusieurs méthodes
But
Évaluer l'interface du site Web "Steam" dans un scénario de recherche et d'achat d'un jeu et proposer des améliorations.
Ergonomic evaluation of SteamA multi-method analysis
Goal
Evaluate the interfaces of the Steam web site in sa scenario of game searching and buying and recommand improvments according to the results.
Évaluation heuristique avec les critères de Colombo et Pasch
Test d'utilisabilité avec méthode penser tout haut selon un scénario préétabli
Mesures d'accessibilité pour le daltonisme, la lisibilité, la taille du texte et sur le code HTML avec "Achecker"
Analyse révélant plusieurs éléments de conception néfastes
Recommandations selon le scénario
Heuristic evalutation using Colombo and Pasch's criterias
Usability test using the think aloud method with a pre-defined scenario
Accessibility measures for daltonism, lisibility, text size and on the HTML code avec "Achecker"
Analysis outlying multiple design issues
Recommandations according to the scenario
Résultats: Des recommandations sont faîtes par rapport à un manque de constance de comportement d'éléments d'interface au travers du site, de manques au niveau du flow de navigation et des informations à fournir pour accomplir l'objectif du scénario et des corrections nécessaires au niveau de l'accessibilité, notamment pour augmenter la taille des plus petits textes. Une version subséquente du site a corrigé certains de ces éléments.
Results: Recommandations are made following a lack of consistancy from the behavior of the interfaces througout the site, issues in the navigation flow and the informations given to accomplish the objectives in the scenario and the corrections needed in accessibility, notably to augment the size of the smaller texts. A subsequent version of the Website fixed some of these elements.
Technique "penser à voix haute" avec Subway SurfersÉvaluation avec une méthode de recherche en ergonomie
But
Évaluer l'expérience du jeu "Subway Surfers" et recmomander des améliorations.
Think aloud technique with Subway SurfersEvaluation with an ergonomic research method
Goal Evaluate a player's experience in the game Subway Surfers and recommand improvments.
Utilisation de la technique "penser à voix haute" durant un jeu
Enregistrement et prise de note
Retranscription des paroles du sujet incluant le non-verbal
Analyse, synthèse avec recommandations
Usage of the think aloud method during gameplay
Recording and note taking
Retranscription of verbalization of the subject including non-verbal elements
Analysis and summary with recommandations
Crazy Baby RunConception des mécaniques de jeu
But
Concevoir un jeu mobile de type endless runner 3D avec influences de tamagotchi.
Crazy Baby RunDesign of game mecanics
Goal
Design an endless runner type mobile game in 3D with tamagotchi influences.
Diagrammes de flux de navigation et d'expérience de jeu
Prototype de gameplay
Document de conception détaillant les grandes lignes des mécaniques
Maquettes fils de fer des interfaces
Navigation and gameplay flow charts
Gameplay prototype
High level game design document detailing the main game mechanics
Interfaces wireframes
Memoirs of a PrimateConception d'interfaces pour un jeu
But
Concevoir la navigation d'interfaces d'un jeu pour PC avec une interaction complète dans Axure.
Memoirs of a PrimateInterfaces design for a game
Goal
Design the the navigation and wireframes of interfaces with complete interactions navigation in a PC game in Axure.
Battlestar Galactica: SquadronsJeu de stratégie à tour de rôle de la compagnie Ludia
But
Produire des assets visuels 3D low-poly pour un jeu pour appareil mobile.
Battlestar Galactica: SquadronsTurn-based strategy game for mobile, by Ludia Inc.
Goal
Produce high-quality low-poly 3D assets for a mobile game.
Modèles 3D low-poly avec 3 LOD (seule la plus haute résolution de quelques vaisseaux est montrée ici)
Basé sur des concepts 2D provenant d'un artiste concept
Modèles 3D faits dans 3DS Max
Textures faites dans 3D Coat et Photoshop
Création et utilisation d'une version high-poly pour les normal maps
3D low-poly models with 3 LOD
Based on 2D concepts from concept artists
3D models done in 3DS Max, textures in 3D Coat and Photoshop
Production of a high-poly version to generate normal maps
Jurassic WorldJeu de construction et de gestion de la compagnie Ludia
But
Produire des assets visuels 3D low-poly pour un jeu pour appareil mobile.
Jurassic WorldConstruction and park management game from Ludia Inc.
Goal
Produce high quality low-poly 3d models for a mobile game.
Modèles 3D low-poly avec animations simples ou sans
Basé sur des concepts 2D provenant d'un artiste concept
Modèles 3D faits dans 3DS Max
Textures faites dans Photoshop
Low-poly 3D models with simple animations and without
Based on 2D concepts made by concept artists
Models made in 3DS Max
Textures made in Photoshop
Pako KingJeu puzzle d'inspiration du type pachinko de la compagnie Ludia
But
Intégrer des assets 2D, produire des animations et FX et assets 2D complémentaires pour un jeu mobile et Facebook.
Pako KingPuzzle game inspired by pachinko made by Ludia Inc.
Goal
Integrate 2D assets, and produce animations, FX and complemtary 2D assets for a mobile and Facebook game.
Intégration d'assets 2D à l'intérieur de fichiers Flash
Programmation de prototypes fonctionnels d'animation et de flow avec la librairie Starling et Flash
Programmation et adaptation de scripts d'automatisation en XJSFL et JavaScript
Création d'assets 2D complémentaires avec Photoshop et Flash
Animations de particules avec Particle Designer et Starling
Création de fonts bitmap avec Littera et Glyph Designer
Integration of 2D assets inside Flash
Programmation of animation and flow prototypes with the Starling library and Flash
Programmation and adaptation of automation scripts in XJSFL and JavaScript
Creation of complimentary 2D assets with Photoshop and Flash
Animations of particles with Particle Designer et Starling
Creation of bitmap fonts with Littera and Glyph Designer
Simulateurs de maintenanceApplications d'entraînement militaire de la compagnie Lockheed Martin
But
Production d'assets visuels 2D et 3D pour des simulateurs de maintenance et d'entraînement sur PC.
Maintenance simulatorsMilitary training applications for Lockheed Martin Canada
Goal
Production of realistic and high fidelity 2D and 3D assets for maintenance and training simulators for PC.
Communication en équipe afin d'évaluer les besoins lors de chaque projets
Participation aux examens entre pairs
Assets 2D et 3D fidèlement recréés à partir de photos et vidéos
Illustrations 2D majoritairement fait avec Corel Draw, certains éléments dans Photoshop
Illustrations 3D fait dans 3DS Max et textures dans Photoshop
Communication with the team to evaluate the requirements for each projects
Participation to peer reviews
2D and 3D assets faithfully recreating machinery and cabinets from photos and videos
2D Illustrations made with Corel Draw and Photoshop
3D illustrations made in 3DS Max and textures with Photoshop
Site Web pour le jeu AztakaProjet pour la compagnie Citérémis
But
Concevoir une interface graphique pour le site web du jeu Aztaka.
Web site for the game AztakaProjet made for Citeremis
Goal
Design a visual interface for the Aztaka game's Web site.
Entretient avec le client pour noter ses besoins
Concept d'interface fait dans photoshop
Utilisation de certains assets du jeu pour la création de l'interface
Créé de façon à pouvoir être étiré en hauteur et largeur
Interview with the client to note his needs
Interace design in photoshop
Use of game assets du jeu to compose parts of the interface
Scalable web site, horizontally and vertically